October 24, 2021
Mushrooms are absolutely magical. 🍄
October 23, 2021
People are really quick with there judgements, aren't they? Is it really that difficult to delay judgement or refrain for judging all together?
October 22, 2021
Today was one of the best days of my life. 🙂 I have experienced something that is incredibly precious.
October 21, 2021
Sometimes I wish I had studied psychology/neuroscience instead of computer science. Human mind is so fascinating.
October 20, 2021
Today I am experiencing some sort of mild anxiety for no apparent reason. Where does it come from? It is so annoying! I have to investigate and figure out what is going on in my head.
October 19, 2021
Nepal has resumed giving visa on arrival for vaccinated travelers! Yay!!! 😀
October 18, 2021
It is incredible how important our sleeping habit is. I was having difficulty falling asleep recently and I couldn't figure out what the problem was. After trying so many different things I think I have got the situation under control now but who knows. Only time can tell.
October 17, 2021
I wish I could recall my dreams. They are so bizarre! So interesting!
October 16, 2021
Life is so unpredictable. Sometimes it's too much for me to handle.
October 15, 2021
Yesterday I went to Baridhara DOHS and Bashundhora puja mandap with my friend. It was very interesting. I realized how little I know about Hinduism.
October 14, 2021
True friendship is so rare!
October 13, 2021
Emotions can be so powerful sometimes.
October 12, 2021
I am done with editing pictures. It was such a great trip! I really am lucky. https://photos.app.goo.gl/ufhdSX75WmmE8JeM8
October 11, 2021
I have SO many students this semester! I hope I can manage them right this time.
October 10, 2021
Something weird is going on with my sleep cycle. It might be connected with my recent problems with indigestion. Being sleep deprived is so bad I am getting kind of worried.
October 9, 2021
I have been socializing online and offline quite a bit since I returned from Maldives. It seems like I have made major progress in improving my social life which was almost non-existent even a few months ago! 🙂
October 8, 2021
My classes are starting again from October 10. I will be teaching discrete math and data structures this semester.
October 7, 2021
Today seems like a good old normal day..
October 6, 2021
Oh man, I had the most horrifying experience at the airport today. There must have been at least a million people in the airport when I arrived at Dhaka. It took me two frickin hours to get through immigration. I don't think I'll ever get used to the insane population of Bangladesh.
October 5, 2021
I will be heading towards the Malé international airport soon. It was such a great trip. I learned so much about Maldives, met so many people and saw so many animals! I am very fortunate.

October 4, 2021
I have been taken over by sadness today.
October 3, 2021
On my way back to Malé I met a wonderful Russian girl on the boat. She lives in Siberia! We talked about scuba diving, traveling, Russian literature and other random topics for a few hours. Then I saw her off at the airport. I wish I had met her earlier.
October 2, 2021
I went to the sea one last time today to say goodbye to my friends. I am going back to Malé tomorrow. I will miss the water and my friends so much 🙁.
October 1, 2021
Today was insane! I am going to remember this day for a long long time! I saw two nurse sharks shedding a stingray to pieces and devouring its tail in front of me. I have never seen anything like this in my life! Then I saw a huge grey shark and for the first time I was worried. I left the place soon. Here's a picture of the nurse shark chewing on the stingray's tail.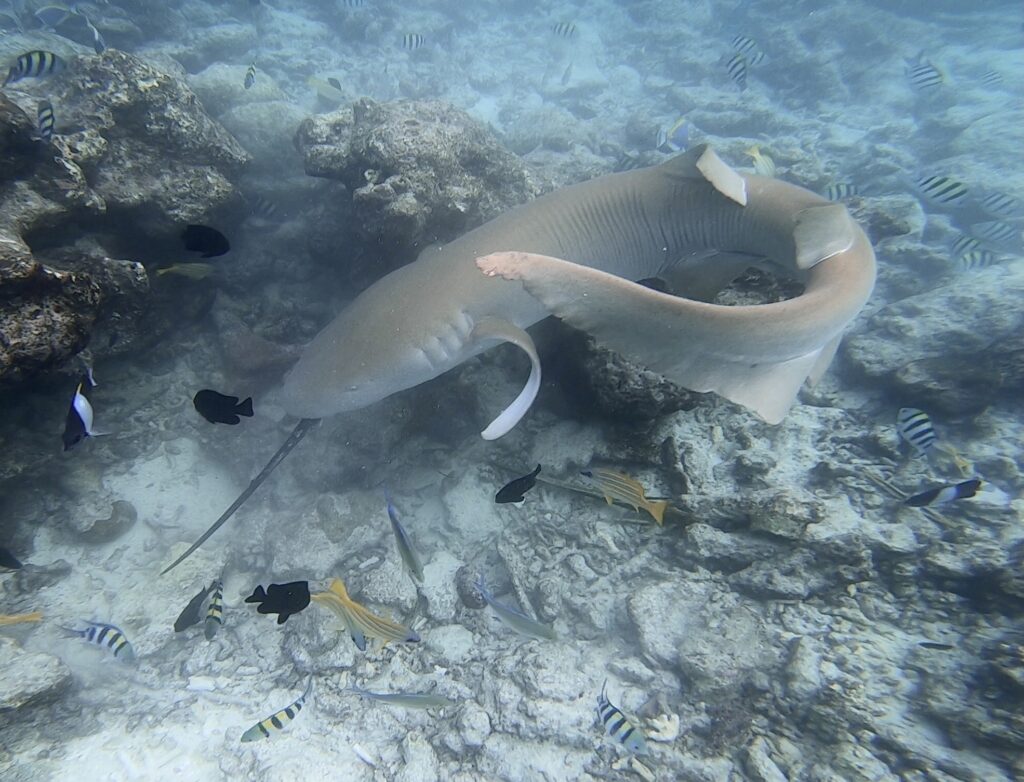 September 30, 2021
My whole body is aching from too much swimming 😑 I went back to the shark point again this morning but they weren't there. It seems that they come in the late afternoon. I was too tired to go diving again so instead I watched the sunset.. and man, what a spectacular sunset it was. The dusk was even more astounding. I couldn't believe the colors. It almost felt like I was on some hallucinogenic drug. Here's a picture without any editing.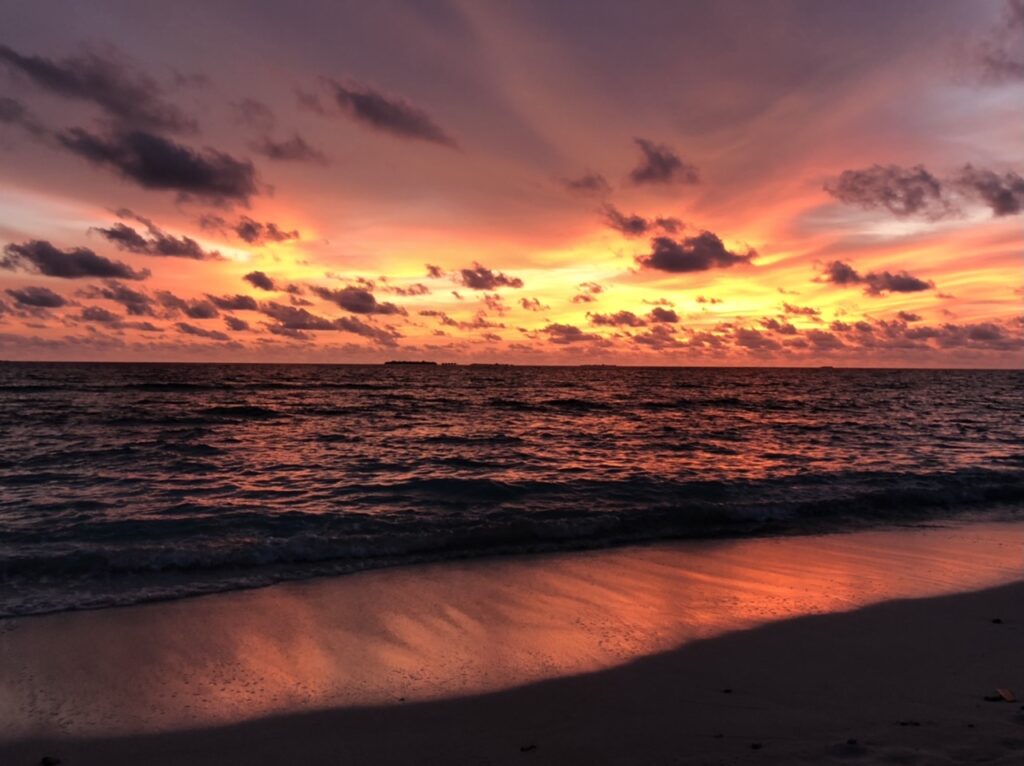 September 29, 2021
Holy mackerel!! Today I saw three huge nurse sharks, two small nurse sharks, a white tip reef shark, many black tip reef sharks, a big stingray, a few turtles, squids, three types of starfish, two eels, lion fish, unicorn fish, angel fish, scorpion fish, anemone fish, one lobster, different types of puffer fish, barracuda, needle fish, trumpet fish and many many more! I haven't seen such incredible variety of marine animals since my Raja Ampat trip back in 2017. I am so happy today! 😃
September 28, 2021
Expectations have been met. This island (i.e. Ukulhas) is so much better! My room is 20 meters away from the beach. The beach is so clean it feels weird. Snorkeling was better but the recent weather has really messed up the visibility. If the wind continues to blow like this for the next few days, I'll be totally screwed. Here's a picture of the beach.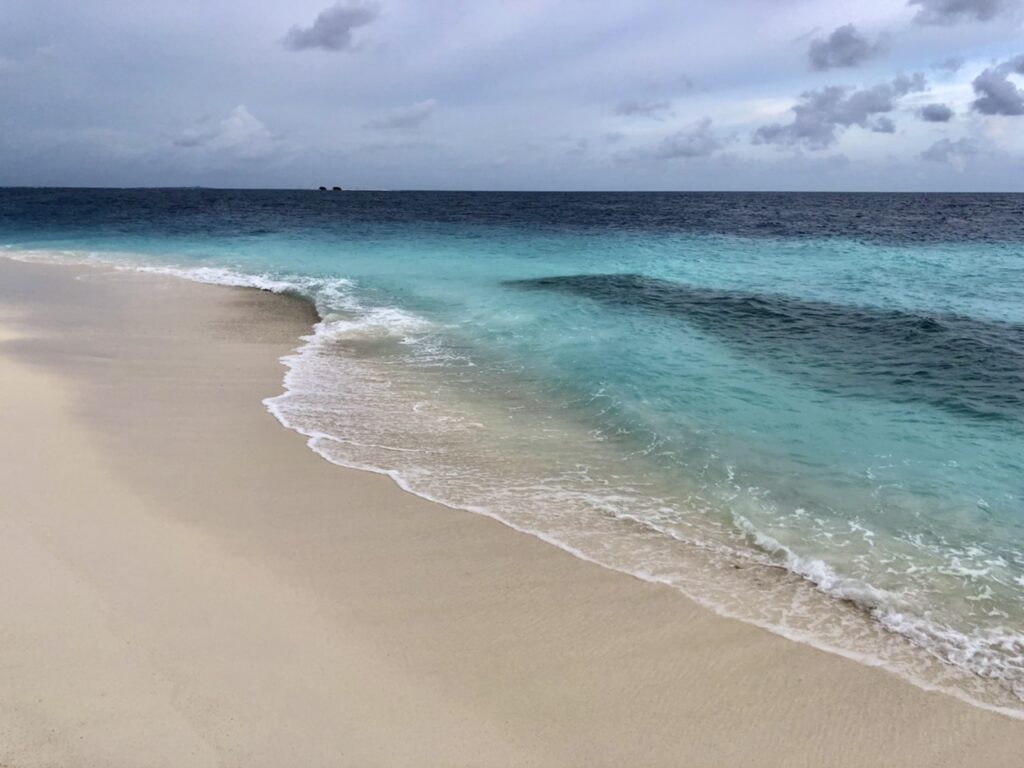 September 27, 2021
Finally reached Rasdhoo today but after snorkeling there just a little while ago I am not so excited anymore. I think my expectations were a bit too high. So tomorrow I am going to move to another island called Ukulhas. I read that it is much cleaner and has a lovely beach and hopefully a better house reef. This time I'm keeping my expectations low.
September 26, 2021
Boat was cancelled due to bad weather. Half wet and somewhat distressed, I had to stay in Malé for another night. To make things worse, I rented a crappy room without wifi and with mosquitos.

September 25, 2021
I was walking around in the streets of Malé today. It is such a tiny and cute city! The fresh clean air and blue sky made me realize how polluted Dhaka really is 🙁 Tomorrow I am going to try to get to an island called Rasdhoo. I read that the reef there is pretty good. Hopefully I will see some turtles, sharks and rays.

September 24, 2021
I reached Malé in the evening and had dinner at a cheap local restaurant. Holy shit! It was the most delicious fish and rice ever!

September 23, 2021
Awareness without the sense of self or the ego is probably the strangest and most powerful experience one can have. It is extremely scary and deeply profound at the same time. The ego has to surrender. There is no other option. People say that ego death feels like real death. Well there's only one way to find out.
September 22, 2021
Today I got tested for Covid-19 for the first time. This RT_PCR test was not as cheap as I thought it would be. When is this pandemic going to end? Life was so uncomplicated before this f-ing virus arrived. Will things ever get back to normal again?
September 21, 2021
Only a few days left before I get lost in Maldives. I haven't been underwater for such a long time that I am feeling a bit anxious.
September 20, 2021
Я о́чень рад, ведь я, наконе́ц, возвраща́юсь домо́й 😁
September 19, 2021
Stoics were onto something. I have to practice their techniques more often. There is no point getting caught up in whirlpools of unnecessary mental suffering.
September 18, 2021
On bended knee is no way to be free
Lifting up an empty cup I ask silently
That all my destinations will accept the one that's me
So I can breathe

Circles they grow and they swallow people whole
Half their lives they say goodnight to wives they'll never know
Got a mind full of questions and a teacher in my soul
And so it goes

Don't come closer or I'll have to go
Holding me like gravity are places that pull
If ever there was someone to keep me at home
It would be you

Everyone I come across in cages they bought
They think of me and my wandering but I'm never what they thought
Got my indignation but I'm pure in all my thoughts
I'm alive

Wind in my hair, I feel part of everywhere
Underneath my being is a road that disappeared
Late at night I hear the trees, they're singing with the dead
Overhead

Leave it to me as I find a way to be
Consider me a satellite forever orbiting
I knew all the rules but the rules do not know me
Guaranteed
– EV
September 17, 2021
Every once in a while I take a deep breath and watch how the time passes. Life is fleeting. We are not going to be here forever..
or are we?
September 16, 2021
I have found a way to fix myself.
September 15, 2021
I am extremely sad today. I don't know what to write.
September 14, 2021
Do you ever wonder what the point of it all is? Is there even a point?
September 13, 2021
"There is a pleasure in the pathless woods,
There is a rapture on the lonely shore,
There is society, where none intrudes,
By the deep Sea, and music in its roar:
I love not Man the less, but Nature more,
From these our interviews, in which I steal
From all I may be, or have been before,
To mingle with the Universe, and feel
What I can ne'er express, yet cannot all conceal." – LB
September 12, 2021
I have been appointed the ambassador of the Kingdom of Fungus to Bangladesh. 🍄
September 11, 2021
"At sunset in Genoa, I heard from a tower a long chiming of bells: it kept on and on, and over the noise of the backstreets, as if insatiable for itself, it rang out into the evening sky and the sea air, so terrible and so childish at the same time, so melancholy. Then I thought of Plato's words and felt them suddenly in my heart: all in all, nothing human is worth taking very seriously; nevertheless." – FN
September 10, 2021
I was so fascinated by the Allegory of the cave when I first came across it in 2012. It made such a deep impression on me that I still think about it from time to time. Here's a wonderful clay animation of Plato's cave: https://youtu.be/69F7GhASOdM
September 9, 2021
Are we slaves to our genes, hormones, upbringing and random events of the physical world? Do we really have any freedom? Freedom is so elusive. There are people who believe they are free even though they are in shackles. Do you think you are free? If not, do you think you can free yourself? Well think again..
September 8, 2021
There are so many kinds of people in this world. Some are kind, humble, honest and straightforward. Some are cruel, arrogant, deceitful and manipulative. Some are after money, power, attention and sex. Some are after growth, wisdom, equanimity and contentment. What kind of a human are you? Are you able to see your own flaws and weaknesses? Or do you think you are perfect?
September 7, 2021
I am truly grateful for my family, friends and students. My entire family is on the other side of the planet. Living alone for one and a half years made me realize how much they mean to me. My friends are few and far away but they have supported me during the recent shit-storm that I had naively got myself into. My students, both current and old, gives meaning to my fleeting life. They motivate me to learn more and grow. Without these people in my life, I'd be rotting in a grave.
September 6, 2021
Overjoyed by yesterday's development I ended up buying a ticket to the Maldives. I have been resisting myself for long enough. I just couldn't help it. Screw financial concerns. I can't say no when the Ocean calls.
September 5, 2021
After two months of meticulous work, constant care and an insane amount of patience, my babies have finally been born! I am so excited today! 🙂
September 4, 2021
The current trimester at my university will end soon. Where am I going to go? I have to go somewhere or I'll die from cabin fever. Somewhere far away from here. I'll sell some of my belongings if I have to. I don't think I've been so desperate in my entire life.
September 3, 2021
"Encumbered forever by desire and ambition
There's a hunger still unsatisfied
Our weary eyes still stray to the horizon
Though down this road we've been so many times" – PF
September 2, 2021
Why is it so difficult to keep life simple? Why does it get so complicated so easily? Is it because of some sort of existential entropy? Have I found a way to make life simpler? Maybe. Only time can tell.
September 1, 2021
It is so hilarious that I have opened an Instagram account and posted over a hundred photos within the span of a few days. What a way to use instagram!